DesignsWeb Design & Development Services
Websites, Maintenance & More.
We can help get the results you need from your website, from creation to optimization, at affordable prices.
WEB SERVICES FOR SMALL BUSINESSES
Are you searching for an experienced professional to maintain your website or create an online presence? We can do as much, or as little, as you require. We offer web services ranging from plugin updates to content creation. While we build, maintain, and improve websites for small businesses, we take pride in the peace of mind, affordability, and transparency we offer our clients.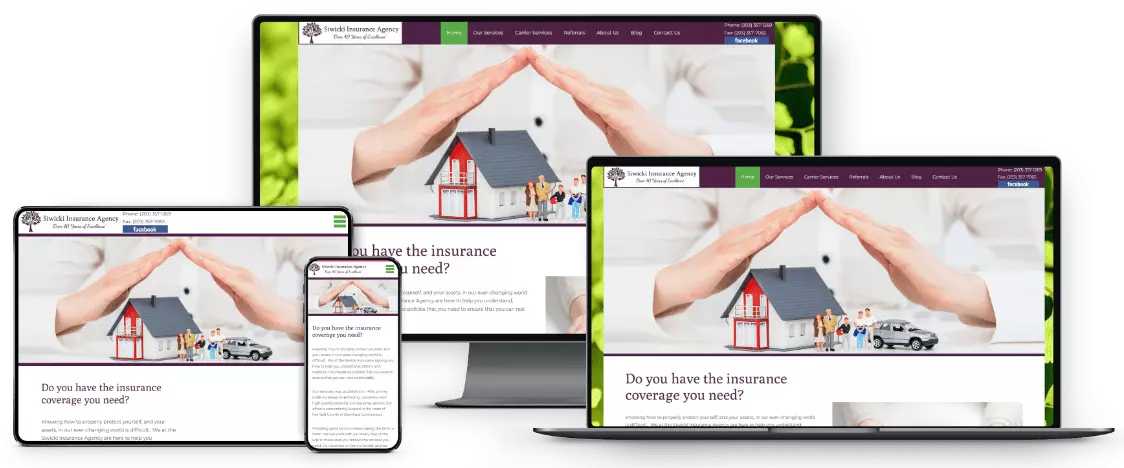 "Tim did a fabulous job on creating our insurance agency's website. I told him our budget, and what we were looking for, and he created the perfect website with everything we wanted and needed, and nothing we didn't. He's efficient and affordable. I would recommend him to any small business!"
Mandy Clear Siwicki Insurance Agency
Your Peace of Mind Provider
There is nothing worse than updating your website and something breaks. The scramble for a fix can leave you a nervous wreck. Save yourself the anxiety and frustration of dealing with your website directly. Running a business while learning from these mistakes is a tedious and costly road you don't need to travel down. Whether you prefer to be hands-off or need occasional help with complicated technical hurdles, we have you covered. We manage websites safely, removing that pain point from running your business.
Learn More About How We Can Make Things Easier
Content management system upgrades
Website plugin configurations & updates
Website theme changes and customizations
Image resizing and optimization
Content creation and editing
Trouble shooting errors, buggy code and scripts
Layout alterations and styling changes
Social media account manangement
Email templates
Email list management
Website speed optimization
Quick, Reliable & Local
When you need help and getting it quickly matters, you need a company you can rely on to be there. Large agencies have large staffs, with more run-around and buck-passing. Before you know it, you get pushed aside for a bigger fish and have accomplished very little for the money you spent, which somehow keeps getting more expensive by the day, and everyone is good with that except you.
We are small but reliable and stand behind our work 100%. So why get lost in the shuffle at a company too big for the little guy? We are as local as it gets, with pricing any small business can afford.
"Tim did a fabulous job on creating our insurance agency's website. I told him our budget, and what we were looking for, and he created the perfect website with everything we wanted and needed, and nothing we didn't. He's efficient and affordable. I would recommend him to any small business!"
Mandy Clear Siwicki Insurance Agency
"Tim at Scofield Designs has done an excellent job helping me transition my business from the previous owner to myself. He has redesigned my website to make it mobile-friendly and easy to use. He does a beautiful job with the maintenance of the site and is always just a phone call away. Tim also handles my social media platforms including Facebook marketing and creates the schema that allows my events to show up in Google events listings. Scofield Designs also handles all my email marketing for me. He is a real asset to me and my business."
Robert Rubin CT Contacts LLC
"Excellent website designer, plus many other areas of expertise: email blasts, database management, Facebook advertising. Multi-talented, a pleasure to work with. An asset to any business."
Tina Auclair
© 2022 by Scofield Designs